Meet the Cast of A Christmas Carol – 2022!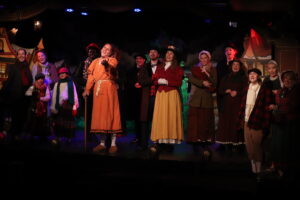 Scrooge  – Eric Fletcher
Bob Cratchit/Mr Fezziwig  – Devon Turchin
Mrs. Cratchit/Belle – Emily Sharick
Marley/Caroler/Diggs – Randy Kessenich
Midge/Caroler/Dancer – Shea Coughlin
Mrs. Fezzi/Ghost of Christmas Yet to Come/Poor Nora – Courtney Hansen
Older Young Scrooge/Caroler – Michael DeRosa
Fred – Theron Taylor Montgomery
Caroler/Dancer – Arianna Stendardo
Solicitor/Mrs. Holly – Sue-Ellen Mandell
Franny/Ghost of Christmas Past – Andrea Woodbridge
Caroler/Fan – Lexi Showalter
Paper Boy/Young Scrooge/Turkey Girl – Avery Ilardi
Caroler/Poor Ed/John – Miciah Wallace
Agy/Ghost of Christmas Present – Brenda Bell
Dog – Bravo Bell
Tiny Tim – Brian Li, Mathew Suarez, Finnegan Burke, Rose Davis
Peter Cratchit / Paper Boy / Shoe Shine Boy / Young Scrooge – Jasper Durgin-Bruce
Youth Ensemble – Jasper Durgin-Bruce, Brian Li, Mathew Suarez, Finnegan Burke, Rose Davis,
Stella Brosius, Sadie Lewinter
Directed by: Pierce Cassedy
Eric Fletcher (Scrooge/Vocal Director)
Eric is very pleased to return to the role of Scrooge for the ninth year. His Off-Broadway credits include Frankenstein (Victor Frankenstein), Hollow (Henry and Van Ripper), Phantom of the Opera (The Phantom), Beauty and the Beast (Papa), The Little Mermaid (Fish Witch), Cinderella (Madame), Alice in Wonderland (Queen of Hearts), The Selfish Giant (Giant) and Treasure Island (Ben Gunn). Eric earned a BFA in theatre per-formance form Virginia Commonwealth University. He can also be seen around New York as his drag persona Sparkle Monster. Thanks to friends, family and Michael Capecci.
Shea Coughlin (Midge, Caroler, Dancer)
Shea is thrilled to be returning to the company of A Christmas Carol! Previous Players Theater Credits include Frankenstein, and Sleepy Hollow. Other Credits include Jesus Christ Superstar and Nickel Mines (ACT of CT) and Mamma Mia! (CT Repertory Theater.) Instagram: @Shea_Coughlin.
Emily Sharick (Belle, Mrs. Cratchit)
Emily Sharick is so excited to spread some cheer in A Christmas Carol! Previous Off-Broadway credits include Beauty and the Beast (Beauty), The Other Side of Love (Miss Dane), Swan Lake Rock Opera (Princess Anastasia), and Cinderella (Cinderella). All my love to Phil and Pepper.
Randy Kessenich (Marley / Caroler / Diggs)
Randy Kessenich is beyond excited to be making his off-broadway debut in A Christmas Carol here at The Players Theater! He recently moved to New York City from his hometown in southern Wisconsin after receiving his BFA from the University of Wisconsin Stevens Point last spring. A special thank you to Mom & Dad, brother Sam, and the many friends and family members who continue to support his artistic endeavors! Enjoy the show!
Arianna Stendardo
Arianna Stendardo began her training in her home town of Monza, Italy. She studied dance at Scuola del Musical (SDM) in Milan, Italy, where she developed a love for performing arts alongside her classical training. Since graduating from the school in 2019, Arianna has studied and graduated from The Ailey School's Professional Division Certificate Program. She has had the pleasure of working with choreographers such as Mia Mc Swain, Nathan Trice, Paul Gamble, Tiffany Carson, Hollie Wright and Sue Samuels. Arianna had her off- Broadway debut in the recent productions of Frankenstein The Musical and A at The Player's Theater in New York City. She also works as a Teaching Artist for Ailey Arts in Education & Community Program with The Ailey School.
Courtney Hansen (Mrs. Fezziwig, Ghost of Christmas Future, Poor Nora)
Courtney is thrilled to be back haunting Scrooge in this production of A Christmas Carol. She has been part of The Players Theatre, Literally Alive, & Be Bold! teams for over a decade. Love to Alex, the niblings, family, & friends.
Shea Coughlin (Dancer/Caroler)
Shea is thrilled to be returning to the Players Theater for A Christmas Carol! Off-Broadway: Sleepy Hollow The Musical, Regional: Mamma Mia! at CRT, Peter and the Starcatcher at Ives Concert Park, Hair at the Sherman Playhouse. @shea_coughlin
Sue-Ellen Mandell (Solicitor, Mrs. Holly)
Sue-Ellen is thrilled to be performing in her 12th production at Players Theatre!….her "home away from home. She has enjoyed doing musicals, dramas, television and film whilst being a speech pathologist and mother..and now grandmother. Retirement has offered the time to perform fulltime. Yay that! Thanks to Brenda and Michael for making this theatre joy possible! [email protected]
Miciah Wallace
Miciah is a young artist making his way in NYC. Originally from the Midwest, Miciah has embarked on a journey to build his career as a performer primarily in Theatre. Credits include work with TheatreNow, NBT and New Light Theatre Project. Miciah is now to have this project as a step along his way.
Michael DeRosa
Michael DeRosa (he/him) is excited to be joining A Christmas Carol for the first time this year as a Caroler and Older Young Scrooge! Michael is a queer actor/singer based in Manhattan and has worked on various stage and screen productions since moving to the city. Previous Off-Broadway credits include: Apartment 666 (NYC Short Play Festival), A Midsummer Night's Dream (Players Theatre), Stoned to the Wall (Chain Theatre Mainstage), and The Frogs (Chain Theatre One-Act Festival). Other select credits: Into the Woods, Richard III, Company. Michael received a BFA in Theatre Arts, Performance and a minor in Musical Theatre from Hofstra University ('19). He'd like to thank his family and friends for their endless support! IG: @michaeloftherosa www.michaelgderosa.com
Andrea Woodbridge (Ghost of Christmas Past, Franny)
Andrea Woodbridge is a NY-based actor and writer working in theater and film. Recent onstage credits include the roles of The Cowardly Lioness in Under the Rainbow and Ms. Prism in The Importance of Being Earnest. This is Andrea's third role at The Players Theatre, and she is thrilled to be returning to haunt the stage as the Ghost of Christmas Past. andreawoodbridge.com, @andrea_m_woodbridge
Avery Ilardi Paper Boy/Young Scrooge/Turkey Girl
Avery is super excited to be back on stage at The Player's Theatre to bring this amazing story to life. She could not think of a better way to spend her FAVORITE time of year than being in A Christmas Carol. She can be seen in the Kars4Kids commercial, Impractical Jokers, and The Elevator movie with Eric Roberts. Over the summer she filmed her first horror movie, The Undead. Thank you, Mother, Father, Rosie, and Giulia for all your continued love and support. Happy Holidays @averyilardi
Brenda Bell (Agy/Ghost of Christmas Present/Book & Lyrics/Director)
Brenda founded Literally Alive Theatre in 1999 and Be Bold! Productions in 2009. She has written the book and lyrics for each pro-duction, including 12 with composer Michael Sgouros. Her adaptations of A Christmas Carol and original musical Tico Tales were featured in Costa Rica at Teatro Jaco. Rumor has it that she wrote, produced and directed her first show at age six when the summer proved to be too boring. Her first love has always been dance and Bell is committed to increasing the role of dance in Off-Broadway musicals. As the owner of the Showboat Theatre, she wrote and produced shows for theatre legends including Mickey Rooney, Jamie Farr, Van Johnson, Mimi Hines and Frank Gorshin. Her writing credits also include Reading Is Cool for Reading is Fundamental and Chasing Phantom, a travelogue that traced the novel of Phantom of the Opera through Paris. She would like to thank this talented cast and creative team for bringing the Dickens classic to life and The Players Theatre for providing the perfect home for her whimsy and always encourag-ing her to be bold! Special thanks to Michael Sgouros for his unending support and trust.
Bravo Bell (The Dog)
Bravo is a ten year old rescue dog from NYC.  PreFURRing to work behind the scenes as the Players Theatre guest relations manager, Bravo only trots his paws upon the wicked stage once a year to perform in A Christmas Carol.  At other times you can meet Bravo in the halls of theatre where he is busy spreading good cheer to those who need it most.  Previously, Bravo was in Treasure Island as the Pirate Pup and Play Date as Pete.  He made his music video debut in Scrooge and the Ghostettes which can be seen on: www.scroogeinthevillage.com.  Bravo is donating his actor salary, except for the biscuits, to Bideawee as thanks for rescuing him thirteen years ago.