Meet the Cast of A Christmas Carol – 2018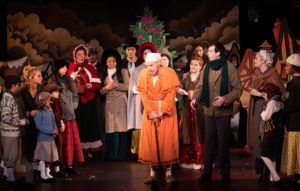 Scrooge  – Eric Fletcher
Bob Cratchit  – Robert Hooghkirk
Mrs Cratchit/Belle – Emily Brady
Marley/Caroler/Diggs – Dustin Schlairet
Agy/Ghost of Chirstmas Past – Erica Clare
Solicitor / Ghost of Christmas Present / Midge – Kelsey Riker
Mrs. Fezzi/Ghost of Christmas Yet to Come/Poor Nora – Courtney Hansen
Older Young Scrooge/Caroler/John – Kit Asfeldt
Fred/Mr Fezziwig – Brandon James Butorovich
Caroler Vera/Marley Spirit/Want – Chrisy Kakurai
Caroler Mrs. Holly / Howard – Anja Avsharian
Frannie/Fan Swing /Marley Spirit / Ignorance – Lela Gannon
Dog Walker/ Female Swing – Brenda Bell
Dog – Bravo Bell
Tiny Tim – Charlie Mansfield, Hudson Moore, Khloe Vieyra, Tristan Kelly
Young Scrooge – Philip Winter, Charlotte Moore, Ellie Suzuki, Jasper Durgin-Bruce, Sadie Hagan,
Samantha Katz, Blake Silverstein, Tory Mogelof
Fan – Lilac Bonventre, Sophia Smith, Eilieen Berger, Michaiah Barrett, Maya Vaknin
Children's Ensemble
Michaiah Barrett
Eileen Berger
Lilac Bonventre
Jasper Durgin-Bruce
Sadie Hagan
Samantha Katz
Saoirse Kelly
Tristan Kelly
Charlie Mansfield
Tory Mogelof
Charlotte Moore
Hudson Moore
Blake Silverstein
Sophia Smith
Ellie Suzuki
Maya Vaknin
Khloe Vieyra
Philip Winter
Eric Fletcher (Scrooge/Vocal Director)
Eric is very pleased to return to the role of Scrooge for the eighth year.  His Off-Broadway credits include: Frankenstein (Victor Frankenstein), Hollow (Henry), Phantom of the Opera (The Phantom), Beauty and the Beast (Papa), The Little Mermaid (Fish Witch), Cinderella (Madame), Alice in Wonderland (Queen of Hearts), The Selfish Giant (Giant), Treasure Island (Ben Gunn).  Eric earned a BFA in Theatre Performance form Virginia Commonwealth University.  He can also be seen around New York as his drag persona Madame Sparkle Monster.  Thanks to friends, family, and the Powers That Be.
Dustin Schlairet (Marley / Caroler / Diggs)
Dustin is terribly excited to join the Player's Theater family! Favorite credits include, CATS (Coricopat/Genghis); ALL SHOOK UP (Featured Dancer); NOISES OFF (Gary); HIGH SCHOOL MUSICAL (Ryan); DIRTY ROTTEN SCOUNDRELS (Old Man); 42ND STREET .(Thief) and most recently the role of Ichabod Crane in Sleepy Hollow.  Dustin graduated from the Neighborhood Playhouse in New York. Recently he was featured in the short film SEVENTEEN, which screened at the 2017 New York Short Film Festival. Dustin would like to thank his friends and family for their love and support.
Robert Hooghkirk (Bob Cratchit)
Previous Credits with Be Bold! and Literally Alive:  A Christmas Carol and Tico Tales.  Favorite credits: The Lost Colony (Old Tom), Elephant and Piggie's We Are in a Play (Gerald, The Elephant), and a two-person adaptation of The Lion, The Witch, and The Wardrobe (Peter/Half of Narnia).  He has worked with Disney Cruise Lines, Lexington Children's Theatre, The Cutout Theatre, Isle of Shoals, and has toured with Chamber Theatre Productions of Boston among others.  B.F.A from Long Island University—C.W. Post.  Deep appreciation and gratitude to all the artists on and off the stage and love to friends and family!
Kelsey Riker (Solicitor / Ghost of Christmas Present/ Midge)
Kelsey Riker is a performing and teaching musical theatre artist splitting her time between The Big Apple and Skagway, Alaska. She is ecstatic to be returning to The Players Theatre fresh off a vaudeville tour through Southeast Alaska and surrounding areas. She was seen at The Players last season in Cinderella and A Christmas Carol. Graduate of Seton Hill University '16. Love and thanks to MAD, Brenda, Michael, Elizabeth, The Players Theatre, and the inspiring artists near and far making dreams come true. www.kelseyriker.com
Erica Clare (Ghost of Christmas Past / Agy)
Erica Clare is thrilled to be at The Players Theatre after last being seen in Cinderella as a stepsister. REGIONAL: Broadway Palm: Let's Go to The Movies. Signature (DC): Titanic, Girlstar. The Kennedy Center: 28 Hours, The Music of Marvin Hamlisch; Creative Cauldron: The Mistress Cycle. Toby's Dinner Theatre: Sister Act, Hairspray, Peter Pan, Peter Rabbit, South Pacific; Mountain Rep Theatre: Into the Woods, Foul Play. EDUCATION: B.M. Catholic University, 2015. Erica is also a yoga/Pilates instructor for New York Sports Clubs. Thanks to her parents always. Upcoming: Joseph and the Amazing (Narrator) at Dutch Apple.
Brandon James Butorovich (Fred/Mr Fezziwig)
This is Brandon's NYC stage debut! Brandon has been on the road for the past two years working in children's theatre, and is excited to spread some holiday cheer with this production. Theatre: How to Succeed…, Ragtime, Little Shop of Horrors. Film: On The Air, Perfect Pitch Too. BA Theatre Performance, UNC Wilmington. Thanks to family and friends! Hockadoo!
Courtney Hansen (Costume Designer/Ghost of Christmas Yet to Come/Mrs Fezziwig/Poor Nora)
Courtney has been part of the Players Theatre team for over a decade and with Be Bold! and Literally Alive she has costumed A Christmas Carol, The Little Mermaid, Sleepy Hollow, Frankenstein, Alice in Wonderland, Tico Tales, Beauty and the Beast, Cinderella, Treasure Island, Stone Soup, and The Selfish Giant. When not haunting the theatre she is a research assistant for Dr Crusher on the USS Enterprise and a producer at Trajectory Films. Love to her niblings, Colin & Thea, and all of her four legged kids.
Emily Brady (Belle / Mrs. Cratchit / Marley Spirit)
Emily is so excited to be making her third appearance on The Player's Theatre's stage! Off-Broadway: Cinderella (Nadine), The Selfish Giant (Spirit, Gladys, Winter, Ensemble). She can also be found belting it out as a permanent cast member of the Let's Broadway cabaret series. She sends love to her family & friends for their endless support, and to her recently found Player's Theatre family!
Chrisy Kakurai (Caroler Fern / Want / Marley Spirit)
Chrisy Kakurai is originally from Japan. She played Petal in The Diamond Horseshoe Revue which was a spin-off of the popular Golden Horseshoe Revue in Disneyland. Since moving to New York City , Annie, Thoroughly Modern Millie, Wild Party, A Christmas Carol ,Cinderella and Sleepy Hollow. She has performed numerous performances in Jazz Roots Dance Company lead dancer including 30th Anniversary Pearl Jubilee, staring Shirley MacLaine.  She is excited to join A Christmas Carol again.  Many thanks to everyone. www.chrisykakurai.com
Anja Avsharian (Mrs. Holly / Howard)
This is Anja's Off-Broadway debut! After attending a performing arts high school here in NYC, Anja flew down south to further her training at Loyola New Orleans where she continued her studies in opera and theatre. She is currently studying method acting at the Lee Strasberg Theatre and Film institute. Past notable performances include Sareri Hovin Mernem at Carnegie Hall, Handel's Messiah at Avery Fischer Hall, and her most recent work as Rose Stopnik in JPAS's production of Caroline, or Change. Happy Holidays!
Lela Gannon (Caroler Daisy, Marley Spirit, Ignorance, Fan u/s)
New York debut! Lela is a recent graduate of Dartmouth College where she studied Theater and Environmental Studies. Regional credits include Late Night Cabaret at Williamstown Theatre Festival and A Christmas Carol at Northern Stage. Many, many thanks to the family and friends who have supported her along the way, being here in the city is nothing short of a dream come true. Happy holidays!
Bravo Bell (The Dog)
Bravo is a eight-year old rescue dog from NYC.  PreFURRing to work behind the scenes as the Players Theatre guest relations manager, Bravo only trots his paws upon the wicked stage once a year to perform in A Christmas Carol.  At other times you can meet Bravo in the halls of theatre where he is busy spreading good cheer to those who need it most.  Previously, Bravo was in Treasure Island as the Pirate Pup and Play Date as Pete.  He made his music video debut in Scrooge and the Ghostettes which can be seen on: www.scroogeinthevillage.com.  Bravo is donating his actor salary, except for the biscuits, to Bideawee as thanks for rescuing him seven years ago.